Stay informed. Please check latest partner news and important announcements.


OMNICOMM Newsletter, April 2019
NEW TEAM MEMBERS ON BOARD
Ksenia Khisamutdinova, OMNICOMM digital marketing head, has joined our team in April. Ksenia is a digital marketing specialist with more than 10 years of experience in search marketing, performance marketing, SEO, SMM etc.
Get in touch with Ksenia if you are interested in co-marketing options in digital.

Yuliya Merenkova joined us in April as product marketing manager. With product marketing experience at LG Electronics & Samsung, Yuliya is the key contact for OMNICOMM product messaging and compelling content.
TECHNICAL UPDATES

NEW FEATURES IN OMNICOMM ONLINE
New chart – "Group ratings" is now available
This chart displays vehicles' ratings for the following parameters:
mileage
engine hours
fuel consumption
consumption per 100 km
operation under load
The green-highlighted parts of the chart represent vehicles' operating inside the set limits, the red-highleighted – above the set limits.
Excluding a track point in the "Log" report and recalculating data in all reports
You can now manually exclude coordinates overshoot from mileage and track calculations. To do this, in the "Log" report check the "Exclude" box in the lines you wish to exclude from the calculation for correct results. Then, select "Save Exclusions" in the context menu. These points will be excluded from track and mileage for all users with rights to the vehicle for which the exception is made. Exclusions may be set only by users with corresponding permissions.




New geofence type – "Map"
You can now add user maps of the area. To do so, in the "Geofences" section:
Select the "Map" icon
Click on "Choose file" and upload the map image to create a geofence. Supported formats: bmp, jpg, jpeg, gif, tiff, tif, png, svg, cdr, sgm, dfx, wmf.
Select a point on the map where you wish to create a geofence. A rectangular geofence with the uploaded image will appear on the map. You can also adjust the opacity of user maps, use the geofence name instead of the address and monitor speed limits in a geofence.
"Safe driving" feature activation for a group of vehicles
You can now activate the "Safe driving" feature in the Services menu for a group of vehicles or for the entire monitored fleet at once. When you first activate the "Safe Driving" feature, pre-set parameters are automatically applied to each vehicle. The "Driving Behavior Analysis" report is built based on these parameters. The pre-set default parameters can be edited at later if required.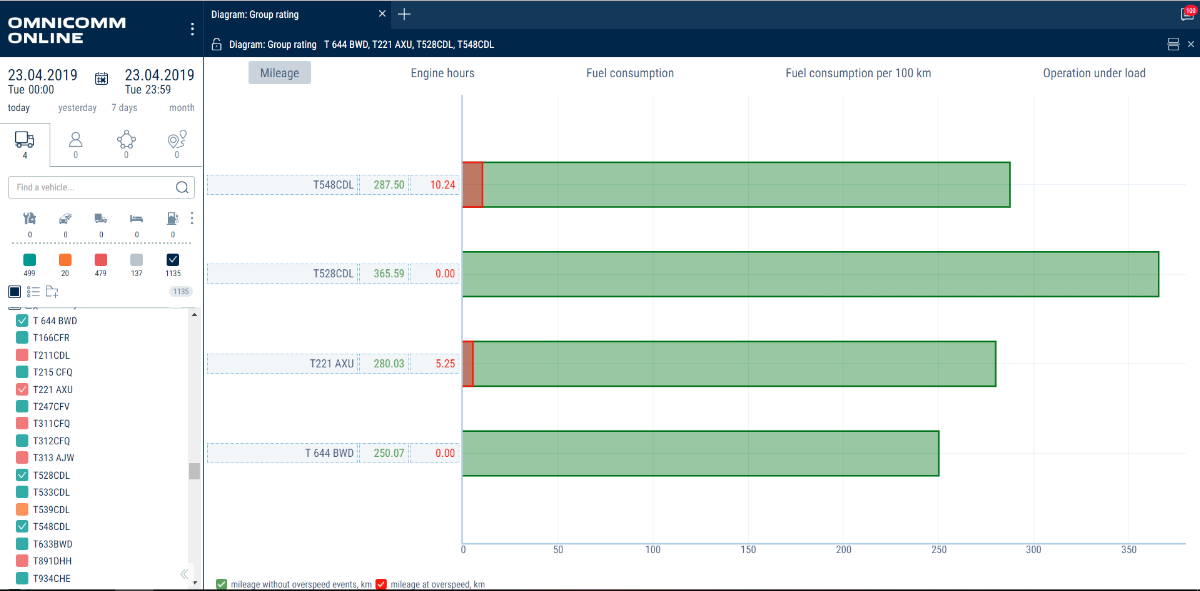 NEW TECHNICAL DOCUMENTS & MARKETING COLLATERAL
Please find below the links to the latest marketing collateral and technical docs. Feel free to use them for communication with your prospects & existing customers.
MEXICO
Online and on-site partner trainings for OMNICOMM Online interface changes
OMNICOMM Mexico team held multiple trainings for the partner community regarding the changes in the OMNICOMM Online fleet management platform user interface. The new interface makes user rights management and everyday usage more intuitive and user-friendly.
Get in touch with General Manager Mexico & Latam Elena Denisenko to schedule your training!
Covering the needs of agricultural companies – with IDT Tecnologias
April has brought many interesting OMNICOMM equipment installations – our local partner IDT Tecnologias has completed several projects for various agricultural enterprises.
MIDDLE EAST
OMNICOMM complete fleet management solution at Smartex in Lebanon
Our local partner Maintpro has showcased OMNICOMM complete fleet management solution, consisting of SaaS reporting platform OMNICOMM Online, feature-rich on-board terminals for professional-grade vehicle tracking and high-precision fuel-level sensors at the Lebanon's leading technology exhibition Smartex, on April 6-9th, in Beirut.
EUROPE
Joint customer seminar with Evotracking in Bucharest
On April 1th, together with our Romanian partner Evotracking OMNICOMM held a business breakfast on Precision, Efficiency and Cost Optimization for Transportation and Construction Companies. OMNICOMM Global Sales Director Dmitry Ilyin presented the benefits of advanced fuel management for construction and transportation business, as well as spoke about OMNICOMM OKO to add video monitoring to fleet management for enhanced safety & incident investigation. Mihai Darie & Diana Aldea from Evotracking introduced the EvoGPS fleet management platform and their specific benefits for transportation and construction industries.
OMNICOMM: augmenting business value through fleet management
In its April issue Transporte Profesional, Spain's leading publication for transportation industry, features a joint article of OMNICOMM and our partner Esel Ami Consulting on how fleet management can help businesses fuel their growth and improve efficiency.
Read now
April 8, 2019