OMNICOMM RANKED IN TOP 10 FLEET MANAGEMENT SOLUTION PROVIDERS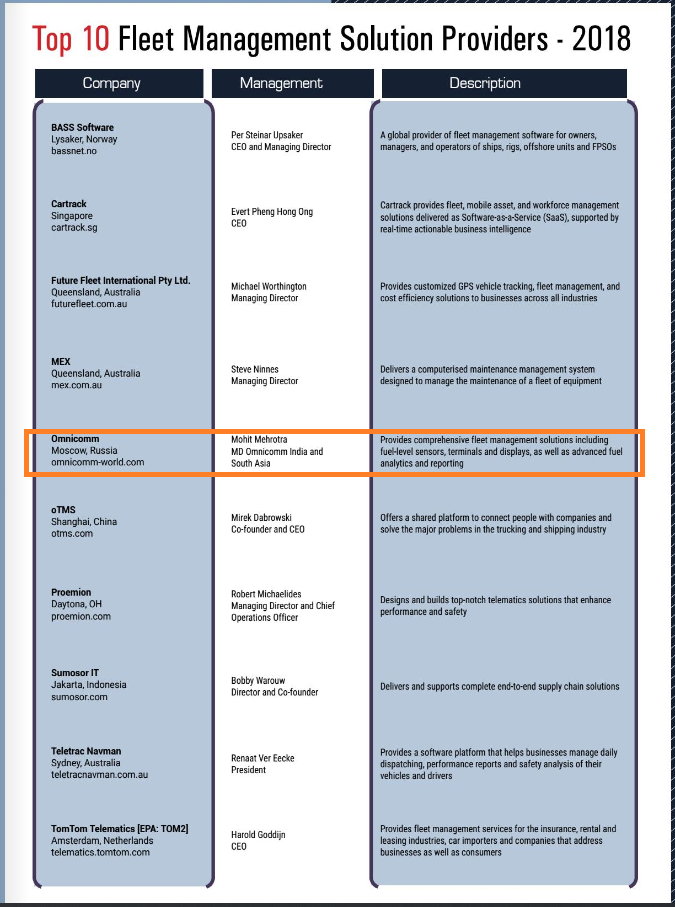 OMNICOMM, the global fuel and fleet management solution provider, is delighted to announce that it has been included in APAC CIO Outlook's 2018 list of the top ten fleet management service companies worldwide. APAC CIO Outlook is a magazine connecting the enterprise IT community in the Asia-Pacific region.
In a fleet management special published in September 2018, APAC CIO Outlook magazine lists OMNICOMM in its top ten fleet management solution providers alongside international vendors such as Cartrack (Singapore) and TomTom Telematics (Netherlands).
The magazine also features an interview with Mohit Mehrotra, Managing Director, OMNICOMM India and South Asia. Discussing how fleet management platforms have evolved from operational dispatch tools into complete business solutions, Mehrotra makes the case for fleet management solutions as a means to achieve significant business efficiencies and add organizational value.
Read the September edition of APAC CIO Outlook magazine online.
Read the interview with Mohit Mehrotra in APAC CIO Outlook, September 2018.
Setembro 18, 2018