OMNICOMM OU AWARDED TOP CREDIT RATING FOR 5 CONSECUTIVE YEARS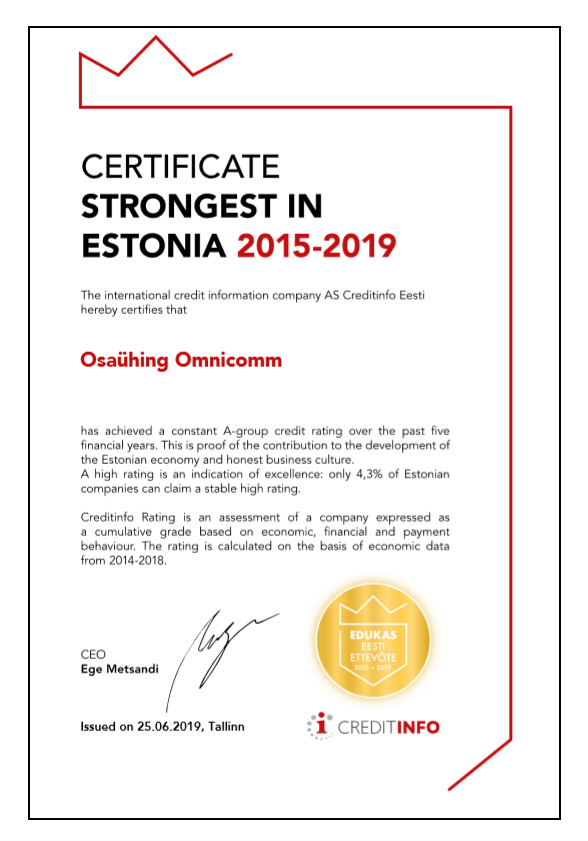 OMNICOMM OU, the Estonian arm of global fuel and fleet management solution provider OMNICOMM, has been awarded an A-group credit rating for the fifth consecutive year. The international credit information company AS Creditinfo Eesti has recognized OMNICOMM OU's high stability with a 'Strongest in Estonia' certificate, noting that this is an "indication of excellence" and proof of OMNICOMM OU's "contribution to the development of the Estonian economy and honest business culture". Only 4.3% of Estonian companies can claim a stable high rating.
"We are committed to working with a global network of partners to distribute and install OMNICOMM products, and it is important for them to know that they are doing business with a stable and reliable company," says Irina Eidemiller, head of OMNICOMM's Estonian office.
"We are very proud to have been awarded an A-group credit rating for five years running. This certificate independently verifies our status as a dependable partner, and is a testament to the hard work of the entire OMNICOMM team," she concludes.
July 4, 2019