ABINBEV AFRICA ACHIEVES REMARKABLE SAVINGS ON FUEL IN AWARD-WINNING LOGISTICS PROJECT USING OMNICOMM SOLUTIONS
Headquartered in Belgium, ABInBev is the world's largest brewing company. ABInBev's African subsidiary, ABInBev Africa, is based in South Africa and operates in 13 countries across sub-Saharan Africa. ABInBev Africa wanted to implement a complete routing, tracking and logistics optimization solution that included fuel monitoring to account for fuel accurately, gain visibility into cost-saving opportunities and make faster decisions based on reliable data.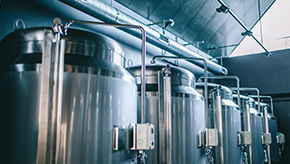 As Talitha Alink, Project Manager, Logistics at ABInBev Africa, explains, "We were interested in cost-effective solutions that would be able to solve the fuel measurement issue in a short period of time, enhance driver behavior management and achieve global KPIs in logistics performance and budgets."
As part of the logistics project, local IT partner Sunstone Logistic Systems equipped 850 trucks in 7 countries with OMNICOMM fuel-level sensors that offer 99.2% guaranteed fuel measurement accuracy. This is significantly above the industry standard of 98% accuracy, giving ABInBev Africa more precise data to improve budgeting and forecasting of fuel expenditure and increase visibility to identify costs.
Live fuel data from the sensors is transmitted every 30 seconds via serial connection to a telemetry device, which is synchronized to a cloud platform. Raw data is automatically analyzed and transformed into KPIs and metrics.
Using these integrated technologies, ABInBev Africa achieved remarkable fuel savings in 2018 versus 2017, reduced fuel fraud, experienced a decrease in vehicle idling time, significantly reduced speeding events and cut CO2 emissions, equivalent to 25,440 trees absorbing CO2 per country, per month.
ABInBev Africa and Sunstone Logistic Systems won the Enviro Award and Gold Award at the 2019 Logistics Achiever Awards, judged by a committee representing the Council of Supply Chain Management Professionals, SA Association of Freight Forwarders, Road Freight Association and other market experts. The project was also recognized with one of ABInBev's internal 2018 Best Practice Awards, and achieved ROI in just 4 months.
December 3, 2019